I'm so excited to share some wonderful treats that arrived in the mail recently.
I won this group of beads as part of the Dreaming of Sun And Sea Challenge hosted by the Facebook group 'Creative Bead Chat'.
The photo below shows the artists who donated to the challenge. Aren't these lovely? The reveal date is July 1 which gives me plenty of time to create--that is if I don't procrastinate. I can't wait to get started!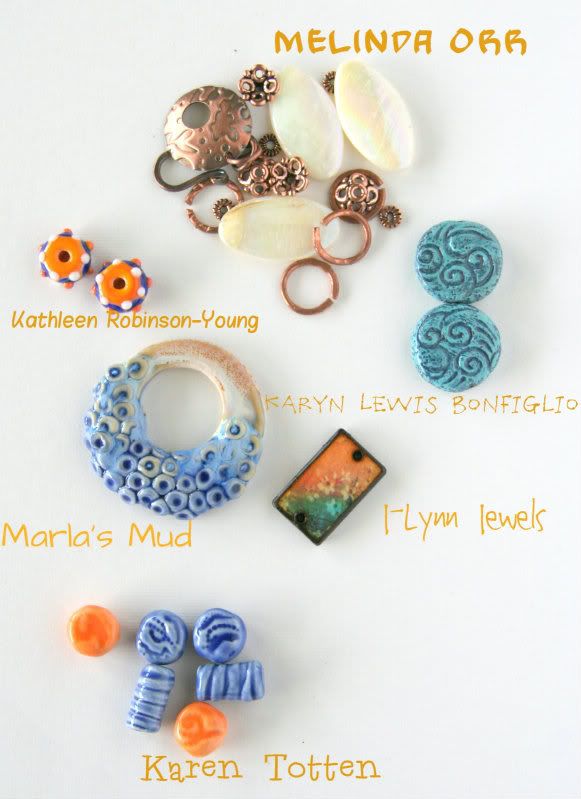 If you follow the
Love My Art Jewelry blog
, you'll be familiar with the
Art Bead Love Tour
. I was lucky enough to have won the next stop on the tour, and the very beautiful, very heavy art bead chain arrived in my mailbox yesterday.
Here's what the LMAJ blog has to say about the Art Bead Love Tour:
'The Art Bead Love Tour is an ongoing project to spread the love of handmade to new and exciting places. It's a way to reach people who may have never stumbled upon our blog on their own, and give them a chance to share the love of handmade. We chose to use a chain to link beads as a symbol of how this project links us all together~ in our unity to stand behind handmade.'
It's going to take me a while to decide which beads to keep. Be sure to watch this blog for your chance to be the next lucky winner!